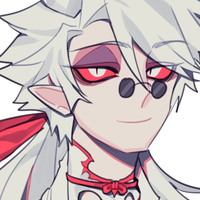 Profile
---
Inai
Please, make yourself at home.
Often off doing his own thing, Inai spends much of his time reading, painting, and enjoying small cups of tea. He's quite inclined towards the arts, finding beauty and inspiration in the various shapes the natural landscape offers him.
Cautious: Considering

Inai is not keen to rush into things. He'll take his time, consider his words, and make a clear response to whatever pressing matter is at hand.
I'll Make Some Exceptions: Gossiper

Despite avoiding meaningless drama, Inai isn't above gossip. When he pays Tomatsu a visit he'll eagerly listen to whatever juicy details the other man has to offer regarding the personal lives of their peers.
Pale Fierceness
The man holds the ability to turn into a towering pale dragon.
---
Trivia
Inai and Tomatsu are close friends, though they do not meet each other often.