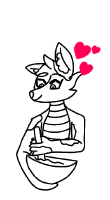 Basic Info
---
Specie(s)

Kella Ser, Siirico, Nitpicki

* He has multiple species listed because while he was originally just a Kella Ser he now has multiple forms.

Notes

*I made the mistake of not uploading him when he made so his old art might be out of order.
Profile
---
Milk is adventurous and energetic, he loves to explore new places or hang out with others. It's not uncommon to find him out and about for no reason other than boredom.
He loves cooking more than anything and is always trying out new seasoning combinations. Cooking is a great way for him to relax and always improves his mood. You can bet his spice rack has too many things on it. He has tried baking however isn't a fan as he feels it's too restricting