Basic Info
---
Species:

Grem2 (Closed species by MrGremble)

Mutations:

Begemmed, Bioluminescence (Free)

Extra:

Has gecko frills going from above his eyes and down the neck/back and onto his tail
Profile
---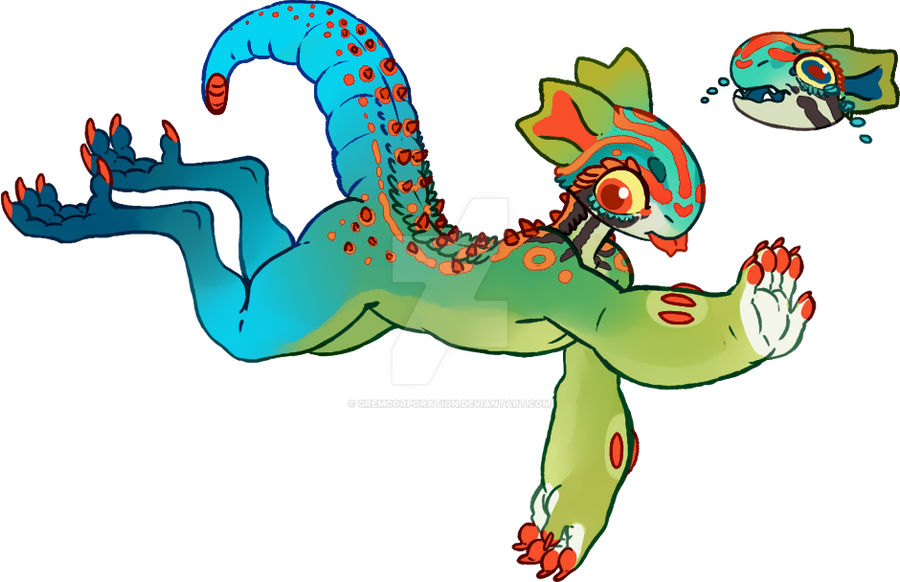 "Hey there! Wanna play?"
Name:
Randy
Nicknames:
N/A
Gender:
None
(Identifies as male)
Age:
Late teens
(Very child-like for his age)
Height:
Below average
Weight:
Fitting for his height
Body Type:
Average but fit
(He's very active)
Residence:
Lives in a wealthy home with his owners
Intended Occupation when Ordered:
Surrogate child
Current Occupation:
Same as above
Personality Traits:
-Childlike
(Has a very kind and innocent view of the world)
-Highly active/hyper
(Gets bored easily if nothing happens)
-Curious
(Becomes easily excited over new things)
-Social/talkactive
-Kind-hearted
(Good moral sense and is highly protective of friends and loved ones, even with the odds against him)
-Competitive
(But in a kind way, he just wants everyone to have fun)
-Bold
(If necessary, willing to take on opponents much bigger than him even if he can't)
Likes:
Adrenaline-fuelled activities
(Loves the idea of them but isn't allowed to do many)
, video games, running, outdoor activities, socializing, exploring
Dislikes:
Books, studying, strategy-driven puzzles, sitting/waiting around
BIO:
A very childlike grem. He was ordered by a man and his wife who couldn't bear their own child, and so ordered a grem2 with a child-like personality to raise as their own. They love him like their son and shower him with toys and games. Though spoiled, Randy is not a brat in any way and does his best to do his parents proud and be nice to those around him. He mostly loves to play video games and do running, highly enjoying competitive sports. Of course, he is not perfect and sometimes fails at a competition, but his parents would never be angry with him and instead do things like carrying him on their shoulders and calling him their champ to restore his spirits.