---
She's basically her grandmother. Sylph was the first one who found her after she stranded in Oasis. After she heard what happened to May in all those years she felt awful and gave herself the fault for it. She's now trying to protect her as good as she can.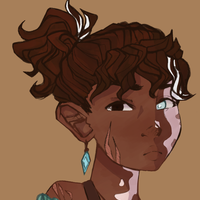 ---
May didn't know how the cope with Sylph's overprotective behavior, that's why she often started arguments with her and hurt her really bad. She now understands the reasons for that behavior and mostly stays in the realm voluntarily. Nevertheless, she loves Sylph very much.
---
Knows that she can't stop him from doing what he's doing so she doesn't bother and rather concentrates on the bigger threats. But she would definitely try banning him from her realm if he ever showed his face there, wants to keep the kids safe.
---
Was really surprised about his sudden appearance in their reality. She knew his mom but didn't like her really well so she's glad that he isn't like her. She wants to keep him safe but knows that he doesn't seem to like her as much as her wife. Just happy that he became a good friend to May.