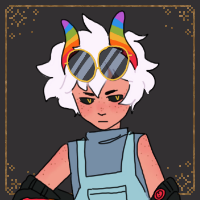 Profile
---
Emyr
he/him . early 20s
bisexual trans man . 165cm . semi-active
"Quote"
[IMPORTANT] Art Notes
Art notes go here. If nothing is here and you have questions about something, please, feel free to ask!
I don't bite, I promise! I'm acually pretty chill about simplified details and stuff!
Maturity Settings
nsfw/nudity: Yes
blood/gore: Yes
About
The son of Namaah and the brother of Chrystinn, Emyr has quite a lineage to live up to. He's not quite as strong as the rest of his family, and his white hair and horna make it clear he's albino, or the demon equiliviant of it. He's more sensitive to sunlight and his vision sometimes goes in and out. He handles it pretty well though.
He has a serious case of resting bitch face, as well as a tendacy to come off as bratty and sarcastic without meaning to. He's also quite standoffish and doesn't say much in general. This makes him hard to approach, but he's really not a bad guy. He's actually quite sweet, he's just very awkward and bad at expressing himself. Plus, he's a total mama's boy.
HTML by Eggy