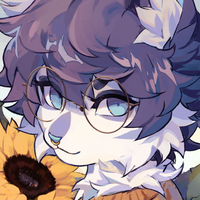 Profile
---
R E N N

ANGEL/CAT | 18 | NONBINARY
About
TAURUS STELLIUM + INFJ + NEUTRAL GOOD + THEY/THEM
Renn is, well, me! Renn is goodnatured, loves to find the humor in situations, and is outgoing around people they know well. Renn lives to help those around them, and is always willing to lend a paw! 
Random Facts
Renn's from the Pacific Northwest, they love the sea and mountains and wouldn't want to live anywhere else.
Renn wants to be a doctor one day!
Likes
video games, true crime, paranormal shows, art, animals, snow, lavender, the deep woods, night and early morning, anime, cryptids, conspiracy theories, memes, helping people, reading, science, people who talk a lot.


Dislikes
aggression, green peppers, sharks, clustered objects, clustered holes, talking a lot.