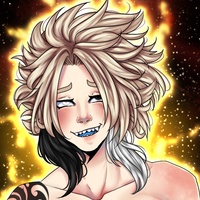 Profile
---
" Pain makes me feel alive."
Human Name || Logan Wade
 Real Name|| Ryujin DrachenBlaut Glaureng Tatsuya
Age || 17
DoB || 29/Feb
Gender || Male
Sexuality || Bisexual
Race || God Dragon
Origin || God's Land
Occupation || owner of a multinational.
Status || Married


Personality
⇀ Description

Ryujin is "The God Dragon". He was born to look after of the humans and the earth planet.He is a very kindness person, he always try to help, he hates the injustices, and always fight for what is right for him.

In spite of he is a dragon, he can't eat meat (his source of power and energy) Because of a trauma that his father caused him as a child. As a god, every time he broke a sacred law, he receives a penance / punishment, he has broken around 15 laws, he broke them to save innocent creatures and protect his principles.The scar on his right hand grows every time that someone hurts Ryu. (Ryu's weakness is his feelings) If someone break his heart in any situation, the scar grows; until that cover all his body and broke it.

Ryu is completely immortal, the only way to kill him is that he commits suicide. All the god's hate him, because he is very strong, and it's the only one with another thinking. For that reason, they're afraid of Ryu dethrone them.He always gets into trouble, because he is very impulsive, Ryu have die once; in his first life, before his father will cornered him to kill himself, he distributed all his power around the world to give "gifts" to the humans, giving them "bodies of animals with soul of warriors" to fight and survive while he was dead. For that reason in his second life, as a penance he lost his memory and lost his god power.

He always hide his pain and show a big smile because he wants to be like a symbol of hope. He can be completely destroyed, but if he has something to protect, he'll continue fighting. Regardless of the consequences.



Likes
Cherrys
Suits
Coffee
be stylish
Dislikes
Meat
Cats (he is extremely allergic)
His parents
to be told that his is a kid
Quirks
he has 6 piercings in each ear
Shark teeth
pointy ears
heterochromia
black blood