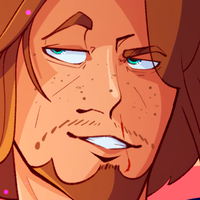 Basic Info
---
Crush

Homrut Kharkul (f, Orc) (friend's Oc)
Profile
---
(Character made for a roleplay with close friends, don't except his lore to be ES-lore-friendly)
Educated, mannerly, composed, and talented, Aesilrio is the eldest of his family and the most knowledgeable when it comes to the realms of magic. With his success at the College of Winterhold, he has been offered many positions as court wizards and magic tutors, and is simply waiting his time for the right calling to happen upon him.
Which is what he WOULD say if he wasn't the biggest douchebag running amok in Riften, claiming the Ratway home and enjoying his plump pockets full of coin so he can frame some market seller who TOTALLY ripped him off a iron dagger that was PAINTED as an ebony blade. Like, seriously, who does this jerk think he is? An idiot? Of COURSE he knew the knife was fake, he was just buying it THEN so he could have reason LATER to COMPLAIN-
*coughs*
Ahem.
Anyway, his spirit animal (and most likely headcanon voice) is Robbie Rotten.
At least he can play the lute…