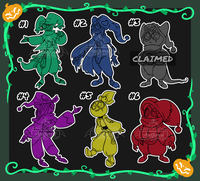 Palette Punk Adopts [CLOSED]
Profile
---
~Palette Adopts~

1: Middle18
2: Autumnvicky
3: L0UNGE-LIZARD
4: Middle18
5: Middle18
6: Middle18
These adopts are essentially you pick the colors and I'll color it for you! You're free to offer up as many palette colors, however, do not be  surprised if I don't use them all. I use what looks good and fits the  general personality you want for said character. :3c
You can also just buy the adopt as is and color it yourself, up to you! I'm just doing this cuz it saves on time for me. lmao
-------------Rules for Purchasing-------------
- Each adoptable is $12
- I only accept paypal.
- Comment if you would like to buy.
-  Please do not ask me for non-watermarked designs. (The large watermarks  on these adopts will be made smaller once you purchase it)
- Trading and gifting is fine. So long as you reference me as the sole creator of the adopt.
- I will hold any offers for 5 days, after that anyone else who is interested may buy / trade them.
You can pay for extra stuff such as;
- Paying an additional $5 for extra props like additional clothing details, design tweaks, ect.
Once you purchase your adopt you will get;
- A transparent file for the character.
- Freedom to change them however you wish. (Design wise, ect)

work © Azelforest , do not repost, re-distribute, edit, or claim as your own, etc.