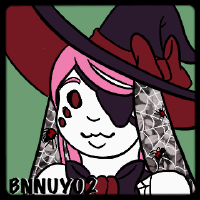 Profile
---
Did you need a tonic? Or something stronger?
About
---
The owner of an apothecary within the Burrow, Hettie, is a master of fixing aliments; and for special customers, she offers some special items… It can be hard getting to her shop at times though, it's said that she can just up and disappear at will!
She seems to have a shop in every area of the Burrow, but ran by different people. Often she's seen with a rather robotic BNNUY02, Although no one has ever seen their face…
Personality
---
Rarely seen without a smile, Hettie thinks mostly everything is a joking matter; despite this, she is happy to give a helping hand to anyone that requires it, often forgoing payment in the process.
Design notes
---
Her ears always have spiders on the webs.
Feel free to change her outfit, just keep it witchy looking!.
Details
---
Name
Hettie Lovelace
Gender
Female
Species
AW0005 (BNNUY02)
Age
???
Height
158 cm
Occupation
Apothecary
Sexuality
???
Partner
NA
Fav Color
Black
---
Dislikes
---
Authority
Killjoys
Cleaning
Hobbies
---
Looking for Rare Herbs
Embroidery
Helping Others
---
Relationships
---
Certainly a strange one, but the two of them get along right as rain! Even if they're always causing trouble for Hettie to smoothe over…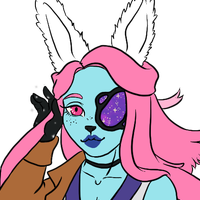 Felicity is someone that Hettie can always count on. They may not get along all the time, but she has her sisters back.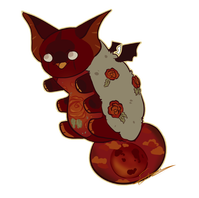 Her beloved paffle! She insists that he's not a familiar; people don't entirely believe her though…
Backstory
Found as a baby by a group of nomadic Bunns, Hettie grew up with them and learned her trade from an older member of the tribe she called family. While they loved her very much, she never truly felt happy, always traveling and never putting down roots anywhere.
She moved to the city of Spring and opened an apothecary there; however, she soon found it difficult to get certain herbs and ingredients for her tonics. Not wanting to abandon the folks she had been helping with their illnesses, she worked to find a way to link her shop here with a traveling shop that she could use to find those needed items.
After some help, she was successful in her spell to link them and soon had shops in each of the major cities of the Burrow, each under a different name. With the influx of new customers, she had to hire some locals to assist in the taking of orders and such in each of the cities.
One day on her travels, after the portal opened to the Digital world, she discovered a person passed out in the grass. Taking and treating them back to health, they became her assistant. They also opened her shop to deal more… specialized items, in which the new AW0005 and their players were happy to pay top money for.
Trivia
---
She has a very good sense of smell!
Hettie has a speciality for calming down people.
Her favorite tea is all of them.
She has no idea where her assistant came from.
Traits
---
Animals in Cooling Pocket
Interchangeable Human / Anthro