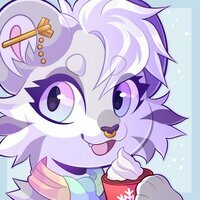 Profile
---
"You can't see me behind the screen /
I'm half human and half machine"
Favorite Weather
Rainy/Cloudy
---
Aries is my main fursona as well as the character I use to represent myself. In art she can be drawn with proportions that vary a lot and suit the artist's tastes, but her "true" build is tall, fluffy, and a bit chubby or "thick" the way tigers bodies usually are. Her motifs are rain, milk, milky coffee drinks such as lattes, eggs, rainbows, stars, sheep, and tropical/lush climates. Aries can also be drawn either as "living" or as a sapiant android that looks living on the outside, but has robotic parts and wires inside. If she's living her blood is red but if she's an android her blood is a shiny/sparkly blue and purple substance.

Aries is a romantic, a lover of all things loving. Even if she's part robot, she's still very much alive, and has a full range of emotions. She has a haughty, playful confidence to her personality, but is also eager to please and can be submissive at times.

Not for trade/sale, please don't ask.
Aries was designed by me.


---
---
HTML by lowkeywicked