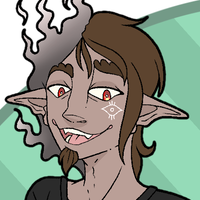 Profile
---
Florence Giambatt
Loki ✦ RIVAL of Lyron
Species
Wisp of Pure Darkness.
Age
??? [Range of 200 y/o]
Sexuality
Homosexual [GAY!]
A ghost of a man who gained the ability to form a wisp and later, a humanoid form. It's said that the man died due to his trickery which ultimately got him killed. Nicknamed "Loki", he takes the form of a wisp that is invisible to the human eye, causing misfortune to all he comes across. Florence turns to his human form when he needs to blend in with the people around him. He travels very fast from place to place so he's never in one place for long which he has done most of his life.
Personality Clever | Captivating | Daring | Trickster | Neutral | Unsympathetic
Appearance 

Human Form - When he is blending into the local population his appearance is very similar to an actual human. His hair still has a flow to it but is pure brunette, his ears are no longer pointed and his tail is hidden. His nails and teeth stay sharp however.
Humanoid Form-  He sometimes prefers to let loose and reveal some of his monstrous features when alone or comfortable. In this form, half his head is enveloped by smoke, his ears are pointed and his wispy tail is revealed.
Wisp form - Basically a lanky black mass with 4 glowing red eyes and very sharp teeth. He also has a long tail and thin sharp claws. His body flows like smoke. The wisp form is invisible to normal humans but it is said mediums and other creatures can catch small glimpses of it.
- Invisibility (Wisp Form ONLY)
- High Stamina
- Transformation from Creature (Wisp) to Human
Stable but often doesn't act like it.
Causing mayhem among humans.
Extra Information 

- He's an extreme masochist and sadist.
- Florence becomes submissive when his tail is grabbed. (In both forms)
- Made from the pure darkness in the dead mans heart.
- Slightly colorblind in the human form but only can see in black and white in the Wisp form.
- Has a tattoo on under his left eye in human form.
Ira is his Half-Brother. Florence is rather standoffish around him to keep Ira calm.


Causing trouble/Trickery
Small Animals [Food]
Dark places
Sexual Contact
Band T'shirts / Logo'd Shirts
Holy Symbolism
Water
Sunny Days
Alcohol
profile html by Hukiolukio