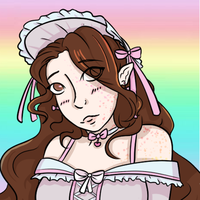 Profile
---
FUN FACTS
LIKES
Lolita fashion
Macarons + coffee
Pretty lingerie
Linguistics
DISLIKES
Strong tea
Fashion illiteracy
Loud noises
Disappointing people
TRIVIA
Because of experiments by her father before she was conceived, she's eternally youthful (18-20ish) and her body continually heals itself.
As a princess, she is trained in traditional Maghian arts like swordsmanship, multilingualism, and magic.
Minda is autistic! It's a comfort thing for me.
DESIGN NOTES
Usually wears lolita; it's similar to traditional Maghian dress. NSFW art of her in lolita is not allowed for hopefully obvious reasons.
In Maghian form, she has pointed ears, rainbow freckles down her right face/arm, and a rainbow right eye
PERSONALITY
POSITIVE TRAITS
optimistic
clever
cheerful
generous
affectionate
NEGATIVE TRAITS
worrisome
self-blaming
picky
analytical
socially unaware
Minda has a soft spot for lolita fashion, which reminds her of what people wear back home. She does her best to be optimistic and friendly to keep everyone's hopes up.
Her autistic traits include picky taste (for food, aesthetics, and clothes), high intelligence, tendency to fidget, and taking a while to adjust to change, especially social.
BACKSTORY
. roots
Minda is a princess and rightful heir to the throne of Maghia, the faerie kingdom of Light. She was forced to flee after the capture and murder of her parents and was unable to return home, due to being barred by enemy forces and unable to fully tap into Maghia's wells of magic.
. exile
Despite her predicament, Minda stays soft and sweet, and does her best to help others with the limited powers she has access to. She is currently stationed on Earth after a long period of inter-realm travelling, where she lives and works with Dante, Indi, and Alice.
RELATIONSHIPS
A living ghost Minda met in her travels, who has become her closest friend. A future love interest. It's wholesome.
Another member of AIM. They are mutual friends with Dante and always get into random shenanigans.
One of the other 2 members of AIM. Her partner in solving (fashion) crimes and reading too many books on magic.
Ydelea is a friend of AIM, and her sense of fashion almost rivals Minda's.