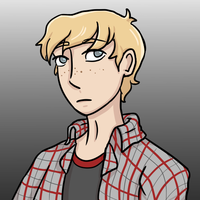 Profile
---
FUN FACTS
LIKES
History
Tea
His mum
Video games
DISLIKES
Strong coffee
Maths
Low doorframes
Deadbeat dads
TRIVIA
Stupid idiot man had an emo phase as a teen
Spent his fully ghost period able to walk through walls. Sometimes forgets he can't anymore.
He is bilingual! (Italian/English)
DESIGN NOTES
He is t a l l
Mostly wears blacks, neutrals, and reds. Looks like a gaming setup brought to life.
Has freckles across his nose and a chest scar
PERSONALITY
POSITIVE TRAITS
funny
loyal
dexterous
can cook
friendly
NEGATIVE TRAITS
smart but dumbass
defensive
compulsive
thats all
he's a gem
this is his personality. take it
BACKSTORY
. in life
The only child of a single Italian mother, Dante was born and raised in Sydney, Australia, and has always loved history and photography. He was going to go to university to become a history teacher, until an untimely car crash led to him dying young.
. in death
Finding himself stuck in the afterlife, but not sorted to a heaven or hell, he decided to stay and help run the afterlife network (aka: run errands) after the system supposedly glitched and gave him ghost status, which is where he met Minda. He's since joined her on her adventures, and they've become inseparable.
RELATIONSHIPS
Just friends. Definitely just friends. Dante's definitely not thought about asking her to be something more. Not at all. Never. Why would you even suggest such a th
Best bros ever man. Meme lads ride or die.
Dante thinks they're friends. It can be hard to tell.