---
She is remarkably thoughtful and kind! I had never expected humans to care so much about a machine's well-being! Perhaps a bit overzealous at times.
---
He's so much more than any automaton she has met in her world- she's very curious about how he works, but cares a lot about him. It still saddens her that he cannot feel most touch, though she tries to not bring it up.
---
They had difficulty working cooperatively at first, but they're improving! Hoping for no further mishaps with that rage mode!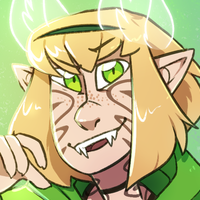 ---
Welp. Didn't think much of him at first, I was just squinting at the fact that he was some kind of """""robot"""". Thought he was way too touchy and talkative too. But you know what? I changed my mind. Best robot. 10/10, would fight a giant crocodile monster for him again.
---
He doesn't show up on camera, which makes him a bit more difficult to read, but his company has been enjoyable so far! I am not clear on what exactly he is.
---
We haven't really had a chance to like, sit down and talk but, he seems pretty cool! Really nice guy. He can't see me tho, that's um,, -rubs his slightly bruised face- that's made things a bit awkward at times. I still like him tho!
---
He has some odd ideas about AI for his time, and seems to have expected me to be a service robot of some kind. That said, we met in strange circumstances, and I'm sure with a bit more information we can work things out!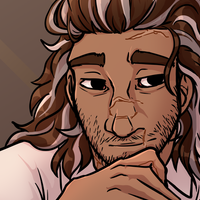 ---
I've had conflicting information on how I'm supposed to treat Turing from those around me, and of course feel like I've massively insulted him. Hopefully we get a chance to start a new. I still am not sure how he exists or what he is, but I've seen weirder.
---
At first, Kazuya seemed a bit hostile, but as we've talked more he's become quite friendly! He seems very curious about my place in the company despite his initial misgivings.
---
.......bossbot. Don't let his height and fancy words fool you, he's completely fuckin' helpless. And like okay but like, seriously tho, they made him interview for his position as CEO? They didn't build him for it, they made him climb the corporate fuckin ladder. Like fuckin, isn't that weird as shit??? Fuckin, his world is weird man.
---
We didn't really get much time to talk, but he seems to be very polite and cheerful. I hope he does alright out there.