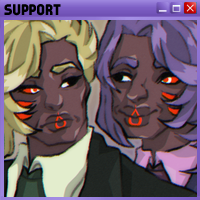 Profile
---
Boss
"Chaos is more intrigueing than order, but one cannot exist without the other and so can't I without my other half."
hostile | calculating | stoic
About
A sower of chaos, the son of discord.
He is the leader of a facility that researches human evolution. Originally appearing back during the times of war, he weaseled his way in with precious talk of helping the government win the war they were in back then. Being the one behind the super soldier project he actually used it to sow more chaos on the battlefield, ultimately resulting in the soldiers turning against each other.
Being one of the main forces of the universe makes him unable to die or get hurt. Unlike his siblings he does act mortal though, often making others believe they've won over him to throw them even more into madness. There is another side to him that is the opposite, craving order and making sure that those who threaten existence are caught and locked away.