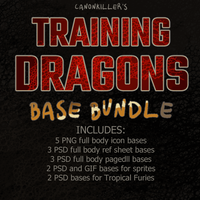 TRAINING DRAGONS Base Bundle
Profile
---
A collection of bases inspired by How To Train Your Dragon, including many no longer available individually.
---
This bundle includes, in a .ZIP file:
- 3 PSD, full body reference sheet bases for Night Furies and Light Furies
- 3 PSD, full body pagedoll bases for Night Furies and Light Furies, two of which have included customization options
- 5 PNG, full body icon bases for Night Furies, Light Furies, Terrible Terrors, Monstrous Nightmares, and Thunderdrums (as these heavily reference official illustrations, they're included as a free bonus)
- 2 PSD, full body bouncing sprite bases for Deadly Nadders and Night Furies, and accompanying GIF examples
- 2 PSD bases, one full body reference sheet base and one full body pagedoll base, for my open HTTYD species Tropical Furies
---
Joining my membership tiers grants access to all items in this pack, as well as my other resources! It is not necessary to purchase this pack if you are already on a tier receiving base access benefits.
---
Please refer to my
Terms of Use page ( canonkiller.com/tos#basetos )
when necessary. Thank you!