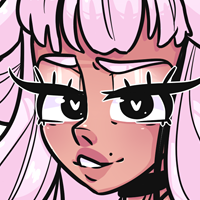 Profile
---
This character profile is still a WIP!

Intro
Name: Thyra Whitlock
Called: The Goddess
Age: 22
Gender: Female
Personality: Narcissist
Race: Deity
Role: Antagonist
Alignment: Bad
Thyra is the Goddess that lives in a palace in Miraclewish. She once lived in Paradise along with other Gods, but because of her actions, she was punished and exiled to an Island in Miraclewish. Also a curse was casted on her making it imposible to get out of her palace and to admire herself in a mirror again...
I want it! And I want it NOW, NOW, NOW!
About
One would never imagine that the goddess who would cause so much pain had such humble beginnings. Before she ever became a goddess, Thyra was born to the Bloomswell couple, a man and woman who were simply looking to raise a child of their own and expand their family. However, they had been struggling with poverty ever since they were married, and weren't sure they would have the resources to give their child the best life she could lead.
When Thyra was a mere baby, her father ended up virtually leaving the picture of her life. He landed a small town retail job that required him to work almost all the time to make a decent amount of money, and she thus rarely ever saw him anymore. She still had her mother - that is, until when Thyra was two years old her mother took the same route, finding a business job that would pay better but required many hours. As such, she found herself left in the care of a nanny, the only one her family could afford at the time.
Thyra knew from the tender age of 3 that she did not like her nanny. The nanny was rude, harsh, and did nothing but sit on her phone, practically abandoning Thyra to do as she wished. With no mother, father, or other caring individual around, she was deprived of any attention and love, and it would affect her personality deeply in the years to come. Time slowly passed, and eventually it was time for her to start a new stage and begin going to school.
At school, most would see Thyra as the perfect child. She was charming, sweet, got good grades, and easily made friends. However, few knew the truth about her behavior. She found herself unable to handle any form of rejection or disagreement, and would cope by either lashing out or resorting to manipulative behavior. Those who experienced this feared her, and those who heard of it felt similarly, mostly remaining friends in order to prevent her from getting upset at them.
The older she got, the more this behavior developed. Thyra desperately wanted attention, and defended herself by believing she "deserved" this attention and that anyone who didn't give it to her wasn't worth her time. Charismatic and sweet as sugar, but struggling with a wrathful and needy heart, she continued to hurt and manipulate friends who didn't give her exactly what she wanted out of them. Some went to the teachers about it, but she had such a good reputation amongst them and was so good at faking innocence that nobody believed the victims. She developed an obsession with her appearance, as well as a belief that she deserved to be revered, even worshipped.
The turning point arrived when she was 22. An extremely special event took place at a Park at night. Thyra heard someone calling her name and out of curiosity, she followed it. The voice was mesmerizing and she could not stop herself, it was as if she was in some kind of trance. When she got to a Park, she saw a man. He was stunning and his voice was captivating. He looked too perfect to be real -she thought, and she was not mistaken, he was a God. He fell in love with Thyra and asked her to become a Goddess so that she would stay by his side. Thyra's mind went absolutely wild. She deserved it, right? She absolutely deserved to become one of the gods, and finally get all the attention, reverence and love she'd ever wanted. As such, she knew exactly what she was going to do.
She was lost in thought, but then snapped out of it. It was a great opportunity for her. She hated her life being a silly human. And so...she said "yes". She'd done it - her struggle with narcissistic and power hungry traits had led to her becoming a goddess.
Little did anyone know that it would also become her downfall.
----------..----------
❥The amazing person that helped me with the Bio: Butterfly
HTML by lowkeywicked
THIS IS A CHARACTER FROM MY COMIC! - Psst! Check the little icons to your right!