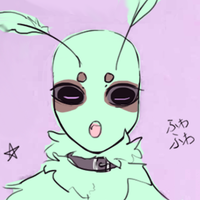 Galactic Wizard SH9 ('sona)
Profile
---
---
Artist persona! There's something magical about this green stringbean...
[1:1 personality it's just me lol]
Has an oddly good visual memory, and uses it for memes. Lots of them. Also for some reason significantly face-blind.
\(; □ ; l|l)/ b,,blease i can't recognize humans faces im so sorry
Christian, college grad, character creator. Eternal dabbler who insists on trying ALL the art media. Minmaxed nerd who used to read books, before the Fire Nation (late-diagnosed) ADHD attacked. Just wants to be friends ❀
Likes
---
drinking coffee morning & night
scavenging human objects
beaches, summer
pets!! please come say hi, kitties! (also raccoons!! CROWS!!)
opening Too Many browser tabs at once
manga, anime
Dislikes
---
cluttered or sudden loud noises
cold/cloudy days
condiments in general
riding that mental health struggle bus
weirdly flexible . socially dense & delightfully ADHD . semi-nocturnal.
---
Left-handed
4'10 / 147cm tall! [actual artist size may vary]
8 fingers, 6 toes; a little bit webbed between
Raccoon rings, shiba inu tail, fluffy moth antennae
'ears' are just lightly-defined patches (think lizard!)
Slight 'nub' for nose, but no visible nostrils
Has glasses, but doesn't wear them much bc i'm too lazy to draw them because they slip down a lot when you don't really have ears or a nose that stick out.
Tends to wear black or gray, or else cat-themed clothes.
---
♪ Fallen Down (reprise) | Toby Fox
---
♪ Kitchen Boy | twenty one pilots | JK61
---
---
♪ Goner | twenty one pilots
---
♪ Sail | AWOLNATION [[TW:s⋅⋅c⋅de]]
---