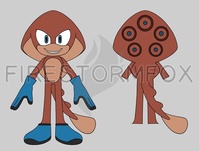 Created

18 days, 23 hours ago

Creator

Favorites
Profile
---
Adoptable of a common torpedo aka electric ray. The palms of his gloves  are rubber so he doesn't shock things he touches but the back of the  gloves are fabric so he can shock things he punches. His shoes are water  shoes and operate under the same principle. 
🍄 No rules; once you buy, it's all yours.  
🍄 PSD included so you can alter design or colors.  
🍄 Design credit in main profile such as Toyhouse or Refsheet.