Profile
---
BASICS
---

NAME : Juke
NICKNAMES : None
AGE : 26
GENDER : Transman
ORIENTATION : Queer



PRONOUNS : He/Him
SPECIES : Corgi
OCCUPATION : Art Student
RELATIONSHIP : Taken
THEME TUNE : ???


ABOUT
---

Oh look! It's me! A disappointment!

My main fursona; he's a corgi, he's embarrassing, he wears shades 24/7 to hide the fact he hasn't slept for 3 days and is dead inside. He attempts to cover up his crippling social anxiety by talking too much and oversharing personal information. Does a lot of nervous laughing and tends to apologise every five minutes for something or another.


LIKES
---
The Ocean
Bad Jokes/Puns
Watching Anime™
Gore & Body Horror


DISLIKES
---
Raised Voices
Hot Weather
Large Crowds
Himself


INTERESTS
---
Photography
Mythology
Art History
Memes


TRIVIA
---
✩ A 5'4'' ball of Big Gay Energy and trying to love that about himself.

✩ Will cry immediately when shouted at, whether at fault or not.

✩ Spends too much time watching Commentary Community videos on youtube.

✩ Has craft hobbies including cross stitch and crochet.

✩ Cried while watching Rocket Man in the cinema.



RELATIONSHIPS
---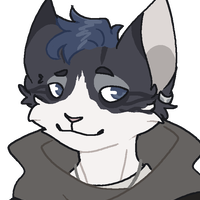 The Bae
NAME
relationship
NAME
relationship
html by fluffycodes