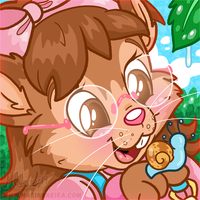 Basic Info
---
🍄 Age:

Kid (5-7 years old)

🎀 Gender:

Female (She/Her)

🐌 Likes:

Rainbows, snails, sunflowers, swings, dinosaurs, Furbys, iced coffee, crayons, cakepops, Charlie Bears, her plushie tiger Ricky Parky.

🌻 Bonus Facts:

My squirrel fursona was originally a squirrel-elf. Despite the switch, she is the same character with the same likes/dislikes, clothing, etc. Her older form is RETIRED, please do not draw it.

🧸 Can you draw her?

Yes, if you know me, and following the rules below.

🎨 Art of My Fursona That I Have Drawn:

🎨 Art of My Fursona That Others Have Drawn:
Profile
---
This is my main fursona: she is 100% me in every way, only younger, and, you know, a squirrel.
✨ THE IMPORTANT STUFF ✨
🍄 Do not include her in any writing or stories without my explicit permission unless we are friends. Generally, unless we are friends, I will decline.
🍄 Never draw her in NSFW or kink situations, including in art including adult characters who are wearing diapers with nothing over them.
🍄 She does not have breasts. She is a kid! Do not draw her with an adult body.
🍄 Try to stick to a 2 and a half head ratio whenever possible, with some allowances made for your style. Anything over three heads tall is TOO TALL. She's really short --the height of a toddler!
🍄 Never draw her wearing diapers or any kind of baby gear. I'm not a babyfur and neither is my fursona.
🍄 Never draw her in the same picture with a character that is wearing soiled underwear. This is a hard line for me. 
🍄 Glasses are ALWAYS a must. Try to include a big bow on her head whenever possible. You can vary her hairstyle, but she always has a bow, headband or ribbon/s on her hair. She often hides things in her tail --coffee cans, crayons, small toys. It's always nice to see this included but you don't have to.
🍄 Please ask before drawing her in a caretaker role for the first time, and never draw her in a situation that implies she is changing anyone's diapers, I am NEVER ok with this. A "big sister" caretaker role is something I am occasionally okay with, with friends, but it is a very personal thing for me. On the other hand, don't draw yourself in a caretaker role towards me without my consent. It's okay to ask, don't be afraid to ask, but don't do it without asking.
🎀 REFERENCE SHEET 🎀