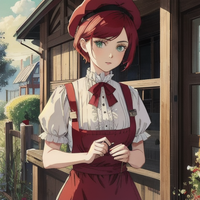 Profile
---
"I refuse to be anyone's burden."
Jayde 23 Factory Worker Etrien
sickly, officious, lady-like, hopeful, eduring
The firstborn daughter, Jayde has always taken responsibility for her sisters, even to her own detriment. A studious and logcal lass, even if a little closed off. When their father left after Elyssa's birth (an even that left her bitter towards him) she became the primary caregiver. She still takes herseslf a little more seriously than necessary, but after her mother's work accident she found it difficult to replace her and be taken seriously by others. Worse still her health has taken a turn for the worse, and she constantly requires medicine to continue working.
She wishes she could fix her ailments and finally stop being a burden to the family, but in the position she in in now, that seems unlikely.