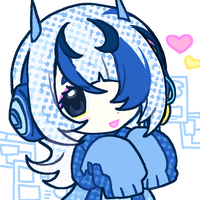 Profile
---
? ? ?
unstable outdated computer software.
made by 17 year old coco as retaliation against nana (and by proxy raru), elsie is a software designed to optimize your computer while also providing a "person" to chat with.

she is currently no longer updated by coco since he lost interest in his made up rivalry with nana. she still has a small dedicated fanbase that makes mods to update her to modern standards.

the modern modded versions of her are seperate entities than the original elsie, though people aren't aware of that.

while programs like her typically age with the creator, since she's been discarded by coco she is permanently 17.
misses coco sometimes
designed to smile constantly
emotionally unstable
isn't used much compared to raru
code creds
she/it