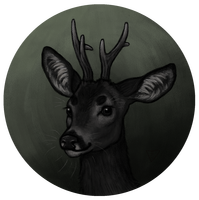 Profile
---
Roe deer with weird toes.
Born from a normal roe deer who wandered into the forest, was affected by the magic of the forest and born with hoofed toes. Abandoned by his mother after she saw the deformation.
Provided with food by a mysterious benefactor.
Found by Stone. Adopted soon afterwards by Heartstring, raised alongside her children.