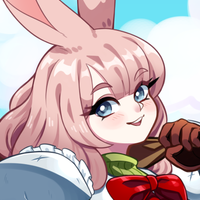 Basic Info
---
Race

Rabbitfolk, Rex subspecies

Occupation

Knight of the Ruby Roses

Relationships

Sycamore (traveling companion, lover)
Profile
---
Anise is a rabbitfolk paladin of the passionate goddess Sune. As a knight in the Order of the Ruby Roses, Anise is a stalwart protector of love and beauty, as well as an advocate and preserver of the arts. Romanticism colors her world, and she fiercely challenges anyone or anything that would seriously threaten these ideals.
Anise easily sees the good in people, and adamantly believes in that good.
---
Note to Artists
First image in the gallery reflects her current design. All other images are outdated.
Changes:
Gloves are now brown leather with black palms, instead of all black
Frills no longer line the gauntlets (hands) or rerebrace (upper arm)
Gauntlets have changed shape
Anise has scars all over her body. They may be omitted, but usually I put some scars on her arms and hands if it's appropriate for the picture.