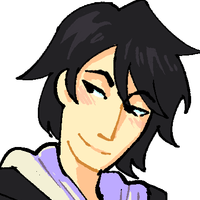 Basic Info
---
Gender

Male (questioning)

Species

wowowow homo sensorium wowowo

Occupation

College student (computer engineering), secret Instagram famous
Profile
---
"There shouldn't be a problem in scrapping off what this life owes us."
Naomi's half brother and Haneul's step brother. originally he's like Haneul's antagonist but I've kinda sorta repurposed him for our sense8 au, so I guess he exists in both now.
He's extremely attention seeking (histrionic) and has been really hurt in his teenage years. Still, it's no excuse to take his step sister's pictures and steal her identity online so he could catfish strangers.
Around 6 years later, he's coping with his obsession with attention by taking an online persona- he dresses as a girl, whose online handle is NaNsan, she's pink haired with a goth attire and a princess like demeanor. NaNsan has a huge following, and he keeps it as a secret. He's very reserved in real life, and has learned to not show a lot of emotion in his face, but he's still manipulative and generally does things to meet an end.
He's in college, studying computer engineering.
He's recently connected to other 8 people over the world.