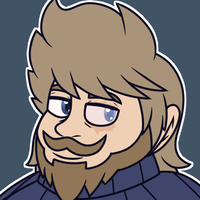 Profile
---
This character is a work in progress. Information may be missing or incomplete.
"I'm gonna...kill him...
"
- Davin, Tale of the Dankiglic (Chapter 5).
| | | |
| --- | --- | --- |
| Monetary Outlay: A lot | Created: August 18, 2018 | Status: NFS |
| | | | |
| --- | --- | --- | --- |
| Can You Draw Him?: Yes | Gore?: Depends | Mature?: Depends | Smut?: Depends |
Davin Sielu Lakso
Davin and Aiva drawn by WaffleRocket
[SEX/GENDER]

Male

[ORIENTATION]

Heterosexual

[MARITAL STATUS]

Taken (by Aiva)

[SPECIES]

Human (Caucasian)

[AGE]

- 16 (THES)
- 18 (Currently, TKEV)
- 20 (TKEC)

[OCCUPATION]

High School Senior

[HEIGHT]

5'11''

[WEIGHT]

94 lbs. 

[EYE COLOR]

Blue/Red
[CREATION DATE]

August 18, 2018
[

VOICE HEADCANON]

Justin Mcelroy
layout by porcuMoose | special thanks to @artyrambles
Davin is a major character in The Kirai Effect: Shadows, who serves as a main protagonist of Carmen's story, as well as a major antagonist in The Kirai Effect: Visions, and the main protagonist of Davin's story in The Kirai Effect: Chaos.


APPEARANCE
Prior to Chapter 5, Davin is lanky in build, also showing that he's underweight. He has dirty blonde hair and has some facial hair growing under his chin. He wears a hoodie that reads "LAKSO," overlaying a diamond. His sleeves consist of red, blue, and light blue stripes. He wears jeans that go over his socks. He wears sneakers with blue shoelaces and stripes. During Chapter 5, his aura is more threatening and appears mostly angry now. He receives scars around his left eye, causing his eye to turn red.
PERSONALITY
"Davin seemed kinda...off
"
- Tale of the Dankiglic (Chapter 5).

???


HISTORY
???
Tale of the Dankiglic
???
Tale of the Dankiglic: Visions
???
Tale of the Dankiglic: Chaos
???
Facts
Davin eventually starts dating Aiva prior to Visions

In Chapter 6, Aiva states that Davin was the one that found her floating ashore after the calamity.

He owns a chocolate lab puppy named "Bruno."
Davin absolutely hates fursuits.
While he is a hunter and fisher, there's barely any info told in the series that explains this.
Popcorn, cherries, and marshmallows are his least favorite food.
Davin's ethnic backgrounds are Finnish and Norwegian.
During creation, his original name was going to be "Gavin."
Due to his left eye being scratched, he is somewhat corrupted, due to a host of Kirai physically harming him (Retro). His vision in his left eye is also blurry, sees more red, and sees supernatural creatures related to Kirai. Basically, he relies on his right eye to see normally.
Davin is a tank type character in-battle. This means he has high defense and speed, average health and power, and low magic and team-attacks.
Davin is anorexic and is a bit underweight.

By the time he graduates, he gains over 200 lbs.

The notable "15" on his green hoodie is actually an error when he ordered it, which was supposed to say "16," being 16 at the time.
He is the 3rd tallest major character of Carmen's Arc, behind Eric and Rex.
He is also the 3rd oldest major character of Carmen's Arc, behind Marcus and Rex.


ABILITIES/STRENGTHS
RELATIONSHIPS
???
???
???
???
???
???
???
???