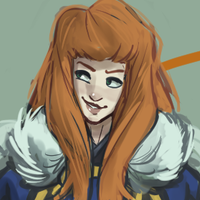 ---
He's my pumpkin dad and I love him lots! Originally we were supposed to be enemies, but life's a big mystery and now I live in a big castle with demon servants. Kinda a DIY project, but as long as it makes Adrius happy, then I'm happy!
---
"She's just my.. indirectly hired help. I can't say I know her too well, but she's been taking good care of the garden I've seen. Perhaps she'll grow to be part of the family, but that's up to her."
---
"You wouldn't believe how bad he let his garden get! Took me weeks just to clear it out. I'm not sure what's up with him sometimes, he's kind of a grouch, but I dunno I spot a bit of a heart in the tangle of thorns every now and then. Maybe the poor guy just needs some time. That, and some repairs for his home! Maybe he'll let me help out with that too?"