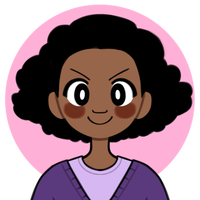 Basic Info
---
Occupation:

Student / Vigilante Hero
Profile
---
APPEARANCE
Mia is tall for her age, and is generally taken to be older than she is, which is a novelty that has long since worn off. She's black, and in good shape from her time on various school sports teams. She has big, dark brown hair which she only ties back when she's being active. Her fashion sense is a bit scruffy, but not dirty. She gives the sense of someone who doesn't want to look like they're trying, but is actually trying quite a bit.
PERSONALITY
Mia is generally seen as being a trouble-maker by staff at her school, and lives up to that label- though, her actions are more spurred on by others pre-judgements of her, rather than the other way around. Mia tends to have trouble concentrating on things, and switches hobbies with relative frequency, which has given her something of a reputation for being unreliable. She doesn't like being looked down on, and is secretly desperate for validation from both her peers and authority figures.
BACKSTORY
 Mia is a normal school student, with a particular interest in her 'Special' classmates.