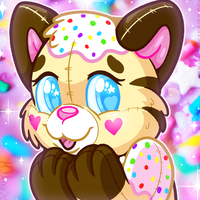 Basic Info
---
🍦 Species:

Plush Bobtail Cat

🧸 Can you draw her?

Please ask me first (and make sure to read everything below.)

🎨 Art of Fairy Bread That I Have Drawn:

🎨 Art of Fairy Bread That Others Have Drawn:
Profile
---
🍪 About Fairy Bread 🍪
🌈 Fairy Bread is a plush bobtail cat, very soft and gentle and kind, but also very strong. She has a pouch which closes with a big button where she keeps her supplies. She loves taking care of others and has a curious ability for knowing what her charge both wants AND needs without needing to be asked. A sweet but non-cloying smell surrounds her --you can't put your finger on it. Is it vanilla? Caramel? Freshly-baked cookies? Somehow it reminds you of whatever your favorite dessert is.
🌈 Fairy Bread is able to transform into a seemingly lifeless, more toy-like version of herself, in case you need to keep her in your pocket or backpack when you are at school or at work. She seems to show up wherever some comfort and TLC is wanted.
🌈 Fairy Bread lives with her little piggy friend Dippy Dot. She looks after him, but Dippy Dot also helps her care for others.
🥐 THE IMPORTANT STUFF 🥐
🍞 Do not include her in any writing or stories without my explicit permission unless we are friends. Generally, unless we are friends, I will decline.
🍞 Never draw her in NSFW or kink situations.
🍞 This character does NOT represent me in ANY WAY! So please keep that in mind. She is a caretaker character for me to use in commissions or gift art.
🍞 She does not have breasts.
🍞 Her tag should be visible. It doesn't always have to be on the same place, just make sure it's visible.
🍞 Never draw her in the same picture with a character that is wearing soiled underwear.
🍞 Don't forget the button that holds her pouch closed!
🍞 Please ask before drawing her in a caretaker role for the first time. Do not draw her looking after your character without my permission.
🍞 Fairy Bread cannot age. She cannot be drawn younger, she has always looked as she is now. Please never draw her as a child.
🍞 Fairy Bread never wears clothing, except perhaps a scarf, bandanna or hat.
🎀 REFERENCE SHEET 🎀