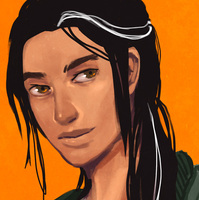 Profile
---
Aiden Lynn
---
composed • intelligent • ambitious
---
Design Notes
Long, black hair, with a white streak
Dark brown eyes, lightens or flickers to gold depending on mood
Appearance
Aiden has a disarming smile and long black hair. He has a dimple on his right cheek. There is a confidence and ease that seemed to follow him wherever he goes, either if it's an ice cream parlor or a gunfight. A white streak breaks the darkness of his hair, a 'birthmark', a distinctive feature he is frequently called out on.
Background
Seemingly laidback, intelligent with an easy smile, Aiden is the forefront leader of a newfounded "gang". He views himself and his group more as vigilantes. The LAPD disagrees.
In high school, Aiden and Sev were friends. That was a while ago.
Aiden helps in his family restaurant in his spare time. He has three sibblings, all younger.
Abilities
Aiden can control and create fire but unlike Sev, he has full control of his abilities. In addition, he can make anything fireproof, by touching them. Useful for clothing.