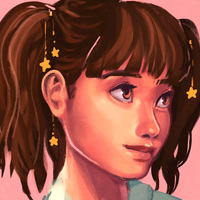 Profile
---
Alouette Keaton
---
optimistic • curious • outgoing
---
Design Notes
Light brown hair, usually in pigtails with dangling star hairties
Brown eyes, light hazel
Button nose
Always smiling
Appearance
She pulls her brown ashy hair into quick pigtails with yellow hair ties. Tiny star beads hang from the ends.
Allie has a roundish face with a high forehead and a rather pointy chin. It looks rather like a heart. She is self-conscious about her nose, which is quite like a button but she thinks it like a pig's snot.
Background
About a year ago, Allie was given a choice. Either watch her little sister Robin bleed out and die in her arms or - as the stranger had offered, "give your existence to me, in exchange for your sister's". Given the circumstances, she chose the latter, without hesitation.
At that moment, Allie had thought she had agreed to her death but she discovered that it was something else entirely.
Allie is alive but she walks on this world as a living ghost. No one remembers her, not her name, or her words, or her actions- not without Intan's permission.
Her sister was born an only child, had always been an only child. Their room and home which was once filled with photos of the two of them smiling are now filled with photos of just Robin; Robin standing alone next to a telescope; Robin in her girl scout's uniform- the only girl in the troupe without friends; Robin giving a forced smile to the camera next to her birthday cake, her eyes wet- her 7th birthday, the one that no one attended, no one but her sister Allie. Not that Robin remembered any of that. The room that they shared had always contained only one bed, Robin's. Allie never existed but at least Robin is still alive.
Allie works in Intan's shop, the only thing she can do right now. It's not that bad. If given the choice, she would make the same decision. Again and again.
Abilities
Most people forget Allie the moment she walks away from them. However, this seems to predominantly affect normal humans, less so ones with powers and supernatural creatures. The degree of forgetfulness depends on the willpower of the person but unless they are constantly thinking and dreaming about Allie, most people forget her within a few minutes to a day.
It also affects animals oddly- they seem to have better sense than people. Perhaps sometimes, it may seem as if a dog was barking at nothing through the fence or a cat is suddenly startled by air or fishes at the fish market suddenly swarm to one side of the tank- maybe it's just Allie walking by.
Likes
Astrology and Astronomy, all things stars and space related
Cute and/or retro things, like instant cameras and puffy stickers
Talking, really likes talking and socializing
Dislikes
Rude people, like those people who yell at waiters in public, blahg
Being lonely or dismissed
Big dogs, they really scare her