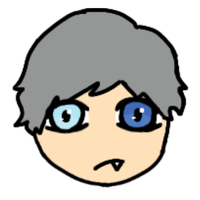 Profile
---
  Identity
Full Name: Ideri
Date of Birth: 11/05/??
Sex: Male
Sexual Orientation: Bisexual
Handedness: Right handed
Age: 125
Zodiac: Scorpio
Gender: Male
Romantic Orientation: Biromantic
Blood Type: A-
  Physical Description
Hair Color: Grey
Eye Color: light blue for the right eye and dark blue for the left eye
Skin Tone: Beige
Disting. Feature: his odd-eyed
Scars: no
Height: Medium
Weight: ??
Build: Ectomorph
  Other
Other: He always look angry
Other: he wear a sweat that his mother made for him before diying
__________________________
__________________________
Angry - Kind - perspicacious
"
Don't touch me! You bastard!"
Personality
LIKES
Chocolate
the silence
singing
music
his sister
DISLIKES
Zetsubo's family (especially cain)
werewolves
Dancing
Lies
Vampire
  Description
Ideri was a man like nobody before becaming a werewolf, now he only want to take a revenge. He was cute and used to like to singing but now he is on his own and is always alone. He was outgoing and used to meet new people but now he is only alone.
  Other
Other: He loves sweetmeat
Other: He hate killing people and hate his werewolf condition
_____________________________
___________________________
_____________________________
___________________________
Bio
Before Cain
Ideri was a normal child, he had live in a forest because of his hippie parents. He used to have a sister to whom he sang good night.  A night, he were bite by a werewolf and turned into a werewolf too. Buuuut, he ate all of his family the same night. (sad story :c)
The 5 mistakes
After that, he was alone and he met Cain who became his friends. He had a one night stand with Will but it was only sexual. With Blanche, it was different, it was a true story, but he knew that was Cain who made the werewolf who destroy his life. He felt betrayed and left Cain and the others, even if he loves Blanche.
After the mistakes
After that, he still hunting Cain, even if it makes him feeling sad because of their former friendship, but he need to revenge. Also he still seeing Blanche, even if he knows that's a bad idea because she stays with Cain and because of his condition of werewolf. He don't know what to do when he'll succeed in killing Cain, he'll probably put an end to his life. 
__________________________
__________________________
__________________________
__________________________
Relationships
enemy/exfriend
Cain is the person who turned Ideri into a werewolf. Before, he considered him as a friend, even his best friend but after knowing that Cain made of his life a disaster, his goal his to revenge. They kissed once because Ideri and Cain were drunk and Ideri really regret this incident.
Sexfriend
Ideri and Blanche had a liaison when Ideri was in Cain's team, but after knowing that Cain is a bastard, he left Blanche. Buuuuuut, he couldn't resist and saw Blanche some times, as much as they could. He started to loving her, but he tried to stop his feelings but it were too strong. He knows that it never could work, even if Cain wasn't there, he knows that he would be too scared because of his conditions.
ennemy
Stephen helped Cain a lot in his experiences and Ideri remembers him perfectly and seeks revenge
exfriend
Ideri regarded Tommy as a friend but does not know what to think now. He has pity for him.
_________________________
_________________________
_________________________
_________________________
More
TRIVIA
• Ideri dreamed of becoming a singer when he was a child
• He can play a lot of instruments but his favorite is the piano
DESIGN NOTES
• You can draw him with frey stuff but he more often wear his dark sweat with gold design
• He never smile
FACTS
• Ideri was originally supposed to be a kemonomimi like Arashi but in the end I preferred the idea of the werewolf
• In my My hero academia Rp Ideri can control metal
__________________________
__________________________
__________________________
__________________________