---
Somewhat familiar, on second glance. Brings to mind the vaguest memory of a grocery store at 4 AM...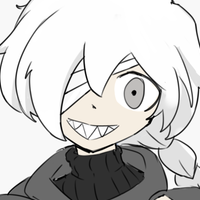 ---
Kind of weird that there's a human just chillin' in a hospital guarded by a huge demon thing, but they suppose every hospital needs a doctor!
---
She keeps trying to steal all of the candy that's reserved for actual patients. He already has a hard enough time trying to keep it from Istra...
---
He tries not to look baffled around her... he doesn't want to be rude. Good thing he already always carries around snacks for Istra. Helps avoid those awkward silences.