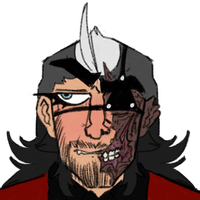 Profile
---
Intro
Name: Casper Prince
Called: Casper
Age: 670 (Born 1330)
Gender: Male
Height: 6'5
Build: Lean
Origin: Salem (He has an american accent, however)
Race: Demon
Appears: Human. DO NOT DRAW WITH PYRAMID HEAD, THAT IS OLD DESIGN
Alignment: Bisexual
Status: Single
Casper is often bored, his sharp mind unable to constantly find stimuli to entertain himself, and so often is found lounging around or annoying people. He tries his best, but often it's not enough and he finds himself, once again, alone in his home or surrounded by those who he does not know. He finds people don't tend to stick around someone who brings the mood down all the time. Those who do, however, become Casper's closest friends and allies, whom he would protect with his life.
Character
Charisma
Empathy
Intelligence
Integrity
Discipline
Humour
As irritating as he is, Casper has an innate ability that draws anyone and anything to him, even if only temporary. He's often criticised for his decently prolific ways, but it's just how he is. He attracts people. And although they rarely stick around, the attention is always something he enjoys. Although an annoying individual at heart, you'll find he doesn't actually speak that much, expressively using body landuage to convey emotion, and somehow being extremely good at it.
Likes
Cigarettes/Cigars
Children
Staying silent for inordinate amounts of time
Flirting with people way out of his league
Dislikes
Apples
People constantly trying to talk to him
Aggressive people
Chickens
Skills
Attack
Defense
Agility
Magic
Resistance
Luck
Healing
Strength:
Despite having already died once already, it doesn't prevent Casper from getting injured. His healing may be faster than that of the average human, but not by much at all. If a human broke an arm, it would take around 4-5 weeks to be fully healed. Whereas if he broke his arm, it would only take about 3-4 weeks.
Teleportation
Strength:
He himself can teleport to anywhere that he has been before, and places he hasn't, but he doesn't want to risk teleporting himself inside a wall or underground. He can also teleport other individuals and objects.
Intimidation
Strength:
Despite never really being outwardly aggressive, his height and almost incessant silence and tendency to loom over people and around them tends to intimidate people.
Entertainment
Strength:
With his age, comes a host of party tricks. He learnt many instruments and little nuances to many things over the years, which come out when he has the chance to entertain a crowd.
Summary
All in all, Casper is a friendly guy. He doesn't tend to judge based on looks, knowing he's got no right to, considering he's got a pyramid for a head and one eye. He's quiet, though not unemotional or inexpressive. In fact, quite the opposite. His many micro expressions and the uncanny way he seems to convey a thousand words with a simple tilt of the head allow him to converse without actually speaking all that much. When he does, however, people find that his voice is pleasant to hear, despite his tendency to smoke several cigars a day. Overall, he's a good guy, all he really wants is someone who's willing to cuddle him on the couch while he cries about The Lion King.
Further Summary
Casper, unsurprisingly, is pretty damn depressed. Living for a long time, watching everyone around you die or leave? Yeah, it has the tendency to wear on someone's mental health. All Casper needs is a little TLC.He was born in the year 1330, but he died in 1358. He was reincarnated as a demon. When he was younger, he met a woman when he traveled to Salem in 1680. They...well. Casper's son was born on the eighth of april, 1681. He was called Phillip. Casper adored him. Phillip got sick when he was five. They don't know what he had, just that he got sick. He passed away two days after his sixth birthday, in 1687. Casper has since then attempted suicide 3 times, but obviously he's already dead and they only serve to injure him permanently. His human form had 2 eyes originally, but he put a bullet in his temple and lost his left eye. He's jumped off a building, which only gave him a permanent limp and pain that'll last for...forever, really. And he's also swallowed an entire bottle of pills, washed them down with whiskey, and sat in his bathtub for six hours until he passed out, but that only made him have an awful headache, and throw up repeatedly for the next few days. He's given up since then.
HTML by lowkeywicked