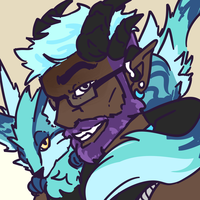 Profile
---
i have to write the meaning of my life or else everything's in vain
[WARNING: DATA CORRUPTION DETECTED]
Boo was, at one time, possibly a student. He might have originated from Hope, or maybe come from somewhere else. It's hard to tell what's happening around him, as a lot of memories and records of his presence ended up getting corrupted when he sta͟rt̷ęd̡ playi̕ng ̵wit͜h t̚h̑ͩẻ ͥ̓T͟a̒͠ttë̷ͫr͢ě̸͊s̡.̨ Driven by insatiable curiosity and energized by an overactive imagination, Boo has been known to █████████████████ himself in order to create. It's been noted that he's lost and gained many things over time, including hearing, sight, appendages, horns, wings, auras and terrible pun skills. That last one might had been there to start with, but it doesn't seem to be going away, actually...
Some rumors spread that Boo once made a deal with Shady Character in order to gain powers of █████████ and in doing so, fell into a deep query of what other secretes he could uncover in the realms. The more he sank into the ███████████████████ the less he was constantly around, instead, only a̸p͟pe͜ar͜įn͞g w̵h͏en͜ so҉me͘o҉ne looke͏d͘ ́f̢o̷r him.
He doesn't technically have a permanent place of residence registered under his name, but he's often seen staying in Mark's room at the Discord Dorms whenever he's in Hope. It's common knowledge that Boo is extremely close to Mark, though lesser known is his affection for ██████████ ███ ███ █████████ ██████████. He's been obvserved to be constantly flirtatious, though avoids any deep emotional connections. His large collection of Ferrecs tend to follow him about when they're not taking care of the small cafe he opened in the back of said dorms. The Landlord is his business partner.
Boo seems to have lost value in material possessions ever since the ██████████ happened to him. While he doesn't technically owe anything, he's been seen attempting to pay rent to the landlord in means other than money, including od́d̢ ̈gͪͭif̈́ͫt̓s. Boo refuses to wear shoes. Best guess to why is █████████████████████████████████.