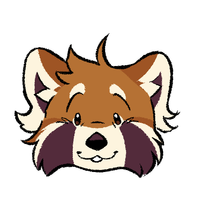 Profile
---
Arthur

"Golly, city folk? I could never live in The City, I always miss home too much."

| | |
| --- | --- |
| Politeness | Hug acceptance |
| Fear of Penny | Love of nature |
Background
Arthur comes from a heavily wooded village a decent distance from Apricot Bay. As such, he enjoys a more down-to-earth life where the air is fresh and plants are abundant and finds himself out of his element anywhere else. Ignoring the advice of his relatives telling him to move to The City to pursue a career, he instead moved to the less harsh and gloomy Apricot Bay where he got a job as a mailman.
Personality
Character traits
Strengths/Talents

Arthur is pretty good at holding a conversation and often chats with other residents when delivering their mail. He's also got pretty solid stamina thanks to all those mail runs. He enjoys pulling out his surprisingly large vocabulary when he gets the chance to.

Weaknesses

Though he does his best to pay attention to those social cues, sometimes he talks a bit too much for some people's liking when he's excited and winds up annoying them.

Fears/Insecurities

Somehow losing his job. He doesn't think it will happen, but he worries sometimes. Also Penny. Penny is terrifying.

Disorders/Diseases

Arthur is perpetually cold even in summer and bundles up year round.

Tics/Nervous habits

When Arthur is deep in thought or feeling nervous, his ears will twitch and his tail will wrap around his legs.
Interacting
Alone: When alone, Arthur spends much of his free time reading at home or at the local library. If he's not doing that, then he's tending to his house and belongings to make sure things are nice and tidy. This is oftentimes when he does a lot of his thinking, whether it be about work, the book he just read, or the world and what's happening around him. He enjoys his peace and quiet almost as much as he enjoys socializing.
With people he doesn't know: While more shy and closed off regarding his personal life, Arthur is perfectly fine with making small talk with people he could've only met two minutes ago. Only small talk though. If you randomly gave him a hug, he'd scream.
With people he trusts: Much more willing to share what's going on in his life. While subtle, Arthur will subconsciously stand closer to the people he feels trusting of. Will definitely go on forever about his interests with someone if prompted.
Stress-handling
At ease: He's friendly, social, and probably getting lost in a book somewhere.
Under pressure: When Arthur is feeling stressed or overwhelmed, he'll often pace anxiously around, chatting to himself for the entire world to hear. He often doesn't even realize he's doing this until it's too late and has many concerned eyes watching him.
Arc and development
Told Me So (character introduction): Arthur happily introduces himself to the trio while delivering their mail.
Penny's Character Short: Arthur does not technically appear, but how Penny terrorizes him on a regular basis through her garden of hell plants is described.
Colton's Adventure: Arthur appears as an NPC outside the library, where his bright demeanor and paranoia over Penny are explored in Colton's conversation with him. He ultimately fails to help Colton find her, however.