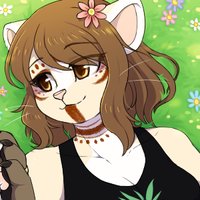 Basic Info
---
Character type

Alternate main fursona

Species

Sweet peach lioness

Zodiac signs

Aquarius, Rooster
Profile
---
Forever in love with her precious girlfriend, Kijani~  
While
Tama
represents my gender fluidity, throughout the last year, I felt like I wanted representation to my female side too, akin to my biological gender.
Malaika (Maika, for the close ones!
) looks physically more like me, so her body's rather chubby in comparison to Tama's elegant and slim build. All my sonas are LGBT+ of course, but I feel like I can relate to her the most from irl experiences, so I'm very happy with her!