Profile
---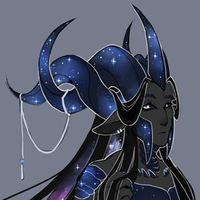 light • cosmos • willpower
---
Domain
Tahr'saar'rihc's Spine
Residence
The Observatory
---
---
Unlike the other Lavaak-sa'haar, who are often quick to rush to conclusions and even quicker to form premature judgments, Vahrtiis prefers to take a slow and methodical approach to life. Because of zer patience and willingness to consider all sides of a situation, ze is often forced to act as an arbitrator between the Lavaak-sa'haar when they get into disagreements with one another. Arbitration is not a process ze inherently enjoys, especially when it involves settling disputes between big egos, so ze purposefully isolates zemself at the peak of The Observatory to avoid hearing or seeing anything about the Lavaak-sa'haar's (usually petty) squabbles. Unfortunately, it does not stop the news from reaching zem eventually, either through Zyrsit or Seitziil.
Vahrtiis believes strongly in the right to self-determination. In zer eyes, every creature should be allowed to follow the path of their own choosing, regardless of whether that path will result in boundless joy or endless despair. Ze has never interfered in the lives of the Ferah-saar of zer own choosing, even when ze has been on the receiving end of a deluge of prayers; however, on rare occassions when the Ferah-saar commit a transgression so great that it catches the attention of all the Lavaak-sa'haar, it is up to Vahrtiis to punish those responsible. Zer acts of "divine" judgment, which are meant to act as a warning to the other Ferah-saar, have resulted in the widespread misconception that Vahrtiis is a tyrant, much to zer distress.
---
Break free from the shackles of fate.
HTML by Eggy