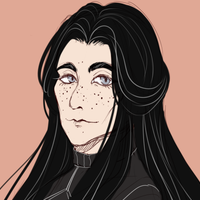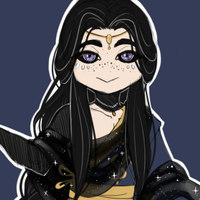 Valentin Severinov (The Diviner)
Profile
---
---
Valentin ██████
??? (they/them; he/him)
██-██-xx (age ██)
???
5'11"
---
A strange fortune teller who suddenly showed up in the Undercity one day. No one really knows their identity, but no one is keen to find out, either. They're always seen wearing star-like silks above a robe decorated with tarot imagery. Their eyes have black sclera and irises with constantly-changing, galaxy-like patterns. There's a strange aura about them, somehow both comforting and unsettling, which superstitious types like to point out as confirmation that The Diviner is not of this world.
They live in a rackety-looking tent in one of the shadier sectors, offering tarot readings to anyone who asks for one. Whether by coincidence or divine fate, their predictions always seem to turn out right. The gangs in the area avoid them, for fear of otherworldly retribution.
---
In truth, the Diviner is just a highly realistic composite android with a limited number of organic parts integrated into an inorganic chassis. They were modeled after the body of Valentin Severinov, a neuromancer from the Uppercity. Though Valentin had died under mysterious circumstances, his fiancé Synclair had sought to bring his lover back from the dead, and thus created the Diviner from his body and memories.
For a while, the Diviner truly believed that they were Valentin. Eventually, they learned that they were just an android imitation, throwing them into quite the existential crisis that they have yet to escape from. Though their personality and way of thinking are indistinguishable from Valentin's, they consider themselves a separate entity from him. They are also missing a couple months worth of memories from the end of his life.