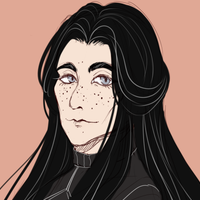 Valentin Severinov (Mer Valentin)
Profile
---
Valentin
---
Likes
• Spending time with family
• The night sky
• Teaching shoalings
• Dancing
Dislikes
• Violence
• Ocean acidification
• Being away from home
• Fish poachers
Trivia
• Scale patterns change all the time according to temperature/season
Thing
Thing
Thing
Valentin was born as the oldest of four shoalings to average parents in an average shoal in the Koi Lagoon. He was a precocious shoaling growing up and was considered something of a goody-two-shoes. However, during a particularly rebellious phase in his youth, he eloped with another koi mer and spent several years outside the Lagoon. In the end, though, they both returned to the Lagoon, where Valentin resumed his role as the leader-to-be.
Valentin's life outside the confines of his homewaters gave him new perspectives that were sorely needed among the traditionalist koi. His experience and unconventional wisdom turned his tiny, unassuming shoal into one of the biggest and most influential ones in the area.
Despite having many mates, Valentin only has one child – a kindai showa butterfly koi named Cecil. Cecil, much like his father, didn't care much for the social conventions of the Koi Lagoon. Valentin encouraged Cecil's critical attitude towards their society, and yet went back on his motto of progress when he found out that Cecil was friends with a warmblood. Cecil called his father a hypocrite and disappeared that night under the full moon.
Valentin has seen the error of his ways and wishes to apologize to his child, but many seasons have passed and no one in the Lagoon has even caught a glimpse of Cecil's shimmering scales.
Cecil
Child
Valentin has not seen his child in many seasons and deeply regrets chasing him away with his close-mindedness. However, he is truly proud of Cecil for following his heart and mindlessly following the ideas taught to him. He would like to speak with his child one last time, but has no idea where Cecil is or how to find him.
---
Friend
---