Profile
---
Intro
Name: ████
Called: Sibyl
Age: ████
Gender: ████
Territory: Mt. Vasil
Species: Angel
Title: The All-Seer
Alignment: True Netural
Gift: True Sight
One of the horrible winged creatures that suddenly appeared on the planet.
An oracle of the eldritch angels, rumored to exist deep within the heart of angelic territory. A creature of many eyes, both visible and invisible. Spoken of with reverence by the other angels, for its many eyes see all.
No credible sightings have been reported of this particular angel, though it has been given the moniker 'Sibyl.'
Personality
As a result of their gift, Sibyl is calm, perhaps to a fault. The ability to "see" across vast distances and essentially spy upon others has desensitized Sibyl to all manner of actions and behaviors. However, their calmness often comes across as apathy, leading others to claim that they have no personality.
But just because they're not prone to outbursts doesn't mean that they'll just happily sit there and take every comment thrown their way without reacting -- Sibyl isn't afraid to throw out a sassy comeback when someone's annoying them. Their highly critical nature, combined with their Sight, results in particularly stinging replies. As a result, the other angels know to watch their own words, lest Sibyl attack them with it later.
Despite being able to keep tabs on anyone, Sibyl refuses to constantly monitor their friends and family.
Skills
Blade of the Sword Saint
Strength:
Sibyl overwhelms their foe with a flurry of slashes and stabs from their dual swords. Siphons opponents' stamina and decreases their stamina regen while dealing massive damage and restoring Sibyl's own stamina.
Moonshard
Strength:
Sibyl's lunar staff sends out a blast of purified moonlight in the shape of rapiers. Does damage based on Sibyl's attack stat, while foes take damage based on their resistance stat.
Mind's Eye
Strength:
Passive skill. Sibyl's countless eyes allows them to keep track of every inch of the battlefield and predict the enemy's movements. Makes it difficult to land hits on Sibyl and impossible to score critical hits against them.
Gaze of the Medusa
Strength:
Sibyl fires dark void lasers from their eyes. Those hit by the lasers are slowed, then paralyzed, and finally calcified.
Links
[ child ]

Soleil is a wonderful young angel, but Sibyl can't help but be disappointed that they refuse to take advantage of the opportunities afforded to them. Their idle, wastrel-like behavior is unbecoming of their lineage, and Sibyl isn't sure how to get them on the right track.
Unfortunately, their child is a bit of a mystery to them. As Soleil's primary parent, Sibyl regrets not being able to spend as much time with their child as they would like, but their duties take precedence.
[ lover ]

Luxuria is the only angel that has ever caught Sibyl's eye. Although they didn't get along with each other at first, Sibyl eventually grew to enjoy Luxuria's presence.
However, Sibyl can't shake the feeling that there's something wrong with their relationship. Both of their duties have left them physically distant from each other, but Sibyl gets the feeling that Luxuria is getting emotionally distant as well. While they really want to figure out what's going on, Sibyl is resisting the urge to secretly spy on Luxuria.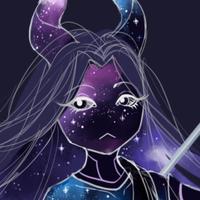 [ nemesis ]

Sibyl hasn't met Temperance in person, but has seen them through their many eyes. They have some modicum of respect for Temperance, seeing as how they're both leaders for their respective factions, but something about Temperance just irritates Sibyl to no end.
They would love nothing more than to fight Temperance one-on-one, but their duties keep them confined to the middle of angelic territory.
HTML by lowkeywicked