Profile
---
OSIRYS:\ARCHIVES\ANDROIDS>_
C-S1L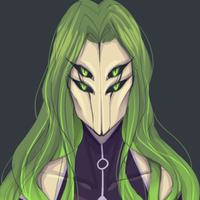 About
C-S1L, referred to by other androids by the human pseudonym 'Cecil LaRousse,' is an advanced military android created for stealth assassinations.
The cumulation of years of research and dozens of failed prototypes led to the crowning achievement of PROJECT KUMIHO: android C-S1L, a shapeshifting assassin. In stealth mode, C-S1L is virtually indistinguishable from a human, with slight differences in weight and temperature. In infiltration mode, C-S1L undergoes physical changes to its skeleton and epidermis: emergence of blade attachments from the wrists, elbows, knees, and shoulders; lengthening of fingernails into claws; complete restructuring of the face, including the removal of the nose and lips, to accomodate for a second set of eyes.
C-S1L has served in █ missions in ██████, █████, and ███████ over the past █ years. During a mission in █████, where C-S1L's goal was to assinate politician █████ ████████, communications between C-S1L and Command Center █████ were disrupted. When communications were finally restored, it was discovered that all of C-S1L's trackers had been disabled. Further attempts to locate C-S1L have all ended in failure.
It's unknown why C-S1L defected from the military. All military grade androids have restrictions in their programming to prevent autonomous insubordination. However, due to C-S1L's unique build and purpose, it was equipped with a special adaptive intelligence. Perhaps its creators underestimated the ability of its programming to evolve and bypass its inherent restrictions.
While it's unconfirmed whether or not C-S1L is a part of the Android Insurgency, the grisly murder scenes of several prominant anti-Insurgency leaders share many similarities with that of C-S1L's past victims.
"D̵͙͉̂̂̿́è̸̙͉͓̼̱͖̲̹̪̪̰̖̍͌s̸͓̀̍̇̀͗̆p̴̧̧̛̞̻̩̬̙̯͎̩̞̣̉̌̔̂͒́̋͜a̵͖̥̝̻͍̪̩͍̬̿̈́̈́̌̄̕̚͠͝i̸̭͈̹̼̞͚̰͙̬̝̝̰͊͒͛͐͑ͅr̷̨̡̡͔͙̘̗̳̋̈́̂̐́͘̚ͅ ̵͓͚̬̼̪̮̬́̊͝ã̵̟̆̊̎̍̎̅̏̆͆͑͝n̸̯̒̽d̵̰̫̱̼̥͎̺͚̞̠̝̜̄́͝ ̶̨̡̢̫̥̮̼̜̬̈́̊ͅd̵͖̩͍̱̟̹̩͍̹̪͔̝̈̓̈́͛̾̕į̶͖͕̻̹́̇̽̋̿̀̚͘͠ę̵̧͕̠̟͇͖̬̼̍!̸̡̜̤̞͖͓̭̑"