Profile
---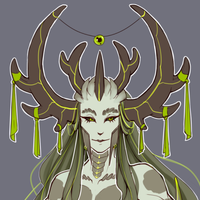 knowledge • darkness • sanity
---
Domain
The Sea of Secrets
Residence
The Enlightened Depths
---
---
Seitziil's calm demeanor hides zer highly critical nature and tendency to hold grudges. Though ze is one of the most powerful Lavaak-sa'haar, ze very rarely resorts to violence; instead, ze prefers the power of words, which can hurt just as much – or even more – than the blades of zer swords. Zer ability to "see" beyond the confines of zer physical body often provides zem with knowledge that no one else should know – and more ammo for their sharp tongue. Even the other Lavaak-sa'haar know better than to get into a verbal spat with zem.
Seitziil is a very private individual and rarely ventures out from zer home in the Illumination. Zer absence in the terrestrial world has led the Ferah-saar to believe that ze is hands-off deity, but ze actually meddles quite a lot in the affairs of others. Nothing too drastic, of course, but just enough to make things interesting. After all, it gets a little boring down at the bottom of the ocean...
---
Be wary of looking too deep, lest you see something you cannot forget.
HTML by Eggy