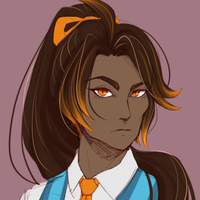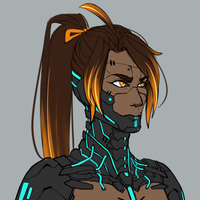 Synclair Devereaux ([Cyberpunk 2077])
Profile
---
---
[ Employee Overview ]
GENDER:
Cis Male (he/him)
RESIDENCE:
██████████████
NOTES:
//
[ BACKGROUND ]
EARLY LIFE:
Birth and early childhood unknown, suspected to be of nomad origins. Adopted by ██████████████ and ███████████ in 2047 (age 6). Has one sibling, ████████. Enrolled in Massachusetts Institute of Technology (specialization: Net systems), graduated summa cum laude in 2062.
EMPLOYMENT:
Scouted by ██████████████ in 2060 and interned in Systems Development Division (NUSA). Became full-time employee upon graduation in 2062. Transferred to Field Operations Division in 2066. Placed into DeepNet Operations Subdivision in 2071.
PSYCHOLOGICAL PROFILE (2077):
Openness: 56
Conscientiousness: 92
Extraversion: 19
Agreeableness: 21
Neuroticisim: 20
Perfectionist. Blunt and straight to the point, with a tendency to say what he wants without regard for others' feelings. Highly self-assured. Asocial and not interested in most human interactions. Highly unlikely to accept any managerial positions. Very low risk for betraying the company. Medium risk for cyberpsychosis.
[ CYBERWARE ]
CRANIUM:
NetWatch Internal Access Package
Infolink Telecommunications Package
Camillo RAM Manager Mk.5
techna Ex-Disk Mk.5
BLiZZARD Self-ICE Mk.5
exMachina Memory Boost
Prometh RAM Upgrade
NetWatch NetDriver Mk.5
EYES:
Kiroshi MK.2 xB72 Eye Implants (Sunset Orange)
TORSO:
NetWatch Arctic Cooling System
SKELETAL:
NetWatch NetRender Artificial Spine
ARMS:
NetWatch Monowire (Halogen Blue)
SmartLink Auto-targeting System
SKIN:
RealSkinn Hypercooling Weave
BODY SYSTEMS:
DENDRiTE Synaptic Signal Optimizer and Accelerator
Arasaka RAIDEN Inductor
B.R.E.A.C.H. Tyrosine Injector
[ Internal Communications ]
---
Synclair:
The family has currently set up our caravan to the north of Night City. Those who have gone into the city tell me that a few things have happened since we last came around. I'm sure you've heard already, but the mayor is dead. The official cause of death is heart complications, but some of people are convinced it was an assassination. Also, that taxi AI apparently went off its rocker for a while, but it looks like it's gone back to normal. You might want to look into it just to be sure.
I'm afraid if you want to find out more, you'll have to go into the city yourself.
-Frederick
AI Activity in NC
Gaheris Pendragon
[DeepNet Team 7]
---
Team,
Our observation agents in Night City have observed an unusually high amount of aberrant AI activity. They're not sure if it's caused by VBD interference or what, but they're almost 100% positive that the Blackwall has been breached by at least one advanced rogue AI.
Dighton is sending us over to Night City on the next flight out. Pack the usual, plus backups of any mods you're particular to. This might be a long mission.
-Gaheris
Gaheris Pendragon
DeepNet Team 7 Leader
RE: Promotion
Almorra Dafydd
RE: Promotion
---
Agent Devereaux,
Are you certain that you want to pass on this promotion? Only a few individuals are selected as possible DeepNet Team Leaders, and you may not get a second chance to move up into the position if you decline. If you're absolutely sure that you'd rather stay as an agent, I will contact the Director on your behalf. Otherwise, please fill out the attached form and get it back to me by Friday at the very latest.
Best,
Almorra Dafydd
Field Operations Manager
Human Resources
Guest Speakers Wanted
Peter roth
[JungStart Alumni]
---
Hey all,
I hope you're having a wonderful day!
As you're all aware, JungStart hosts an annual semi-formal event for soon-to-be-graduates to give the students an idea of what different career paths are available to them upon graduation. We are currently looking for alumni who would like to be guest speakers for the event. Please reply to this email if you're interested – note that this year, the event is being held at Zurich instead of Geneva.
Thanks,
Peter Roth
Events Coordinator
JungStart Program
Moore Technologies, Geneva Branch
Bonus Payment
Valentin Severinov
Cecil LaRousse
---
Cecil,
Director Tannid and some of the other higher ups were very impressed by your handling of Operation Storm Runner, as well as your stellar track record in general. They've elected to give you a bonus of 10,000€$, which HR says you should see in your account within two days.
Good job.
V.
Cyberware Installation
Keesha Fahlahk
Cecil LaRousse
---
Agent LaRousse,
Your a cyberware installation appointment is confirmed for Monday. As per Director Tannid's request, we'll be outfitting you with special pre-alpha hardware coming out of R&D, as well as the usual hardware available to agents. You can find the names and descrptions of every piece in the attached document.
Please make sure to get a good night's rest and to fast for 12 hours prior to your appointment. After the installation surgery, we will be keeping you at the recovery ward for post-op monitoring for approximately one week to make sure that there are no complications. We have already coordinated with Agent Severinov and he is aware of your upcoming operation.
In addition, I've attached an informational brochure so you know what to expect following your operation. If you have any questions or concerns, please contact me.
Regards,
Keesha Fahlahk
Senior Cyberware Installation Technician
Installation and Maintenance Division
Moore Technologies, Night City Branch
Night City Transfer
Nikita Pashkova
Cecil LaRousse
---
Cecil,
Director Orianna Tannid of Special Operations has specifically requested for you to join the Covert Operations Subdivision over at Night City. Your AV to Night City will be leaving Thursday at 07:30, make sure to have your bags packed before then.
It's sad to see you go, but I'm proud of you. As you already know, Covert Operations appointments are only awarded to the most capable individuals, and to be personally selected for one by the Director of Special Operations is a great honor. I'm sure you'll do great things for Moore Tech at your new position.

Nikita Pashkova
Lead Trainer and Coordinator
Moore Technologies
[ CONTACTS ]
Director of Special Operations [Moore Technologies]
"Sayari!"
Ripperdoc [Snake Nation Nomads]
"Synclair."
Quartermaster [Snake Nation Nomads]
"Oh, it's you..."