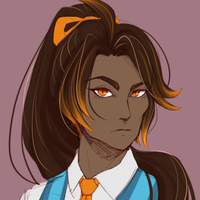 Synclair Devereaux (Mer Synclair)
Profile
---
Synclair
---
Likes
• Dry-lander technology
• Minimalism
• Above-water ecosystems
• Spicy food
Dislikes
• Dry-lander-induced ocean deterioration
• Feeling trapped
• Being told what to do
• Tilapia
Trivia
• Has not set foot(fin?) in the ocean for 7 years
• Taught himself to speak dry-lander
--
--
Synclair is a selkie - a rare subspecies of mer who can transform into the guise of a dry-lander.
Born to a warmblooded shoal in the tropics, Synclair lived a relatively normal mer life until he beached himself one day on a sandbar. Instead of getting stuck like the others, the sea foamed and swirled around him. His tail split into two legs and his body s hrank down to the size of an average dry-lander.
Though his newfound ability confused him, he embraced it whole-heartedly. He was young, but not ignorant - he had seen the ocean change before his very eyes, and knew that life was not going to get better for the mer. He kept his selkie status a secret from his family and began making regular trips above water to educate himself about the world of the dry-landers. When he came of age, he left his home shoal and began a new life as one of the "humans."
Paranoid about being outsted as a mer, Synclair moved far away from the ocean and refused to participate in any activites involving water. He fabricated an entire backstory for himself and tried to delude himself into thinking it was true. He even got himself a dry-lander boyfriend, though he broke up with the man as a result of said paranoia. Try as he might, though, he couldn't escape from his origins.
The ocean called out to him, day after day, month after month. Eventually, Synclair became so homesick that he began soaking in a tub every available minute of the day to replicate the feeling of being in the water. It was rather disruptive to his life, so he booked a vacation to a remote arctic area to to alleviate the sea's beckoning.
Synclair had originally planned to stay for two weeks, but the more times he shed his dry-lander skin, the more compelled he became to return to an aquatic lifestyle. Now he's unsure of how to proceed: follow his heart into the water, or follow his mind back onto land.
Lysandros
Ex-Boyfriend
A marine biology PhD student that Synclair met during his infiltration of dry-lander society. While Synclair knows that Lysandros is kind and caring to an absurd degree, Lysandros's interest in sea life and his own paranoia ultimately drove a wedge between them.