Profile
---
Intro
Name: ████
Called: Vsaryin
Age: ████
Gender: ████
Territory: Llarah's End
Species: Demon
Title: The Duskfall Scorpion
Alignment: Lawful Evil
Curse: Toxin
One of the terrifying horned creatures that appeared in the aftermath of the 'angelic invasion'.
Vsaryin is the only known source of vsaryintoxins, a set of highly dangerous compounds that can cause respiratory arrest and organ failure within minutes in humans. It's unknown what was named first, Vsaryin the demon, or the vsaryin family of neurotoxins.
All sightings of this demon must be reported to the authorities immediately so the surrounding areas can be quarantined, tested, and cleansed. Anyone found attempting to collect vsaryintoxins will be arrested on sight.
Skills
Vsaryintoxin D-27
Strength:
Passive skill. Vsaryin's skin and bristles are coated with the D-27 isoform of vsaryintoxin. Contact-based attacks against and from Vsarin have a high chance to paralyze.
Snake Eater
Strength:
Vsarin absorbs any toxic compounds from the area around him and uses them to power up his own attacks. Cleanses poison from foes and allies. Increase in attack corresponds with amount of toxic materials absorbed.
Fell Stinger
Strength:
Powerful, tissue-degrading enzymes are secreted in the barbed stinger at the tip of Vsaryin's tail. Stinger attacks cause heavy poisoning and tissue damage, but have low accuracy.
Assassin's Bite
Strength:
Vsaryin plucks short, hardened bristles from his tail and uses them like darts. Poisons foes at long range. Does no damage. Hard to detect.
Links
[ rival ]

Vsaryin holds a strong dislike for Luxuria. The angel is very persistent and annoying in their attempts to "get to know him," despite knowing that he hates social interactions.
Vsaryin won't admit it, but the fact that Luxuria is completely immune to his neurotoxins is a big hit to his pride and ego.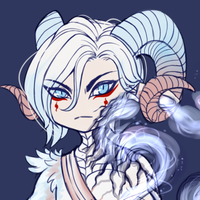 [ it's complicated ]

Vsaryin has known Ivoire for a long time.
Too long.
It is not something that he should speak of.
[ --- ]

---
HTML by lowkeywicked