Profile
---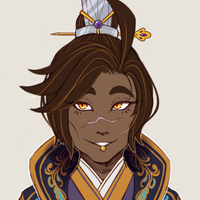 Gender
NB (they/them, he/him, she/her)
---
Zodiac
Year: Dragon / Month: Rat
---
Character
Notes
Martial arts level: 0.5/5 (what's fighting?)
Weapon's name: 寒化 / Hanhua
came up with their own name
really good at acting
almost drowned once and is afraid of lakes
what up i'm jiaolong, im 27, and i barely know how to read
    王 骄 龙
About
Jialong is the supposed personal servant of Second Prince Hua. They bear a striking resemblance to Imperial Scholar Qiu Xincai.
At first glance, Jiaolong is a charming social butterfly with a propensity towards the dramatic. They easily make friends with all sorts of people, from nobles to peasant farmers. Their overly-outgoing personality can get quite grating, but hidden beneath their sunny exterior is the heart of a true schemer. They are quite perceptive of other people's motives and will think nothing of exploiting those desires for future gain. However, they're a bit too egotistical at times, leading them to overestimate their own abilities.
Only a few select individuals are exempt from their schemeing ways, namely Sihua and Xiaoyu'er. Anyone Jiaolong considers a true friend has their loyalty forever... or for however long they can stay on Jiaolong's good side.
Jiaolong has done a good job integrating into the aristocratic imperial court in spite of their lack of formal education. While they pretend to be Sihua's servant, they're actually Sihua's partner and the mastermind behind all of Sihua's political moves.
Preferences
Likes
Anything shiny
Sleeping
Spending time with Sihua
People watching
Dislikes
Bugs
Waking up early
Being forced to read things
People that see through their shit
Background
Jiaolong grew up as an orphan in the remote reaches of the empire. Without any parents or caretakers to mind them, they had to rely only on themselves and their own abilities. They were not particularly large or strong as a child, so they often resorted to trickery and thievery to survive. As most people did not appreciate being stolen from, Jiaolong accumulated quite a number of lingering scars from angry shopkeeps and farmers.
Over the years, they got better and better at reading people and manipulating them. On a good day, they could convince people to hand over their items instead of just outright stealing them. That didn't mean they stopped pickpocketing alltogether, though – they would still pilfer a coin purse here and there to supplement their "income."
One day, Jiaolong made the unfortunate decision to pickpocket a rich-looking individual with flowers in their hair. They were caught in the act and forced to return the stolen goods, but the person made a great impression on them. Whenever Jiaolong would see "Blossom" in town, they would make a very poor attempt at taking their coin purse to try and strike up a conversation. It didn't always work, but Jiaolong found it quite fun, nonetheless. Years later, when Jiaolong got into trouble with a gang of mountain bandits, "Blossom" saved them by pummeling all the bandits. They introduced themselves as Sihua and offered Jiaolong a job in their estate so Jiaolong would stop being such a local nuisance.
Over the next couple of months, the two quickly went from strangers to friends to lovers, and Jiaolong turned from a servant of the house to a master of the house. The grand plans they and Sihua had for their collective future were overturned when Sihua was recalled back to the capitol. Jiaolong, confident in their own political skills, convinced Sihua to take up Emperor Xingzong's offer and exact their vengeance instead of remaining in exile.
Though they encountered a few unexpected surprises waiting for them in the capitol, namely the existences of their biological parents and twin brother, Jiaolong is finding it surprisingly easy to survive in the volatile climate of the imperial court. Pretending to be Sihua's servant is proving to be much more difficult, however.
Links
HTML by Eggy