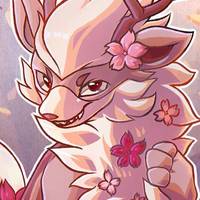 Basic Info
---
Characteristic:

Thoroughly cunning

Moveset:

Forest's Curse, Horn Leech, Attract, Mean Look

Other:

Cherry blossom Arcanine.
Profile
---
Shu is an Arcanine that has been reincarnated into a woodland spirit, they're well-known for their tranquil demeanor towards other Pokémon and their vast knowledge. They provide useful advice and guidance for those who to seek it; Shu's price for their services being a small coin of any sort. Regardless of their friendly disposition this personality is a ruse used to hide their true intentions, using deceptive and secretive habits to mask their vicious behaviors. When Shu is in a pinch, they will use their natural charm and charisma to avoid detection from suspicious Pokémon. While Shu is not a strong battler due to their limiting form, they will resort to trickery and status moves to overcome their opponents. For Shu to maintain their form they will prey on weakened Pokémon, leading them into the woods to drain them of their remaining lifeforce.
---
• They will place hexes on Pokémon who refuse to pay their fee or try to steal their riches, these curses slowly weaken the Pokémon over time.
• Despite their young appearance, Shu has been alive for over six hundred years.
• Loves to hoard coins, stashing them in a quaint river deep inside the woods.